This has been a crazy week.
I know a cold is my bodies way of telling me to slow down but I am pretty slow all the time anyway. If I slow down anymore I am going to be moving backwards. Lol
But seriously, I didn't think I was doing too much till I sat to write this post.
Here are some things I am working on:
Bead Soup due March 3rd.
I got my beads from my partner Rochelle Brisson of Sea Chelles Design, visit her blog
here A Creative Chelle
. Out of my comfort zone for sure but that's the fun part of these hops!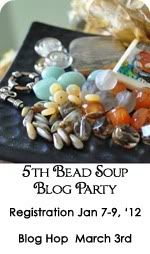 The Challenge of Music due Feb 29th. I have a song picked but haven't started working on my piece yet. All I am gonna tell you is that I love Adele ;-)
Artisan Clay due February 25th:
Got my beads at the end of last week and have been too sick to work with them yet.
Echo Creative Club due Feb 25th:
Got my beads, made an awesome necklace, took pictures, working on the blog post this afternoon :-)
Andrew Thornton's February Challenge also due Feb 25th:
Necklace finished, photographed and I am working on some other pieces because this kit was huge.
The colors of spring blog hop due March 31st. Got my beads, have been sketching what I want to make but haven't had a chance to make anything yet.
And finally I am a member of the Allegory Design Team due Feb 28th.
My pieces are made and photographed, now all I need to do is write up the instructions and get them to Andrew :-)
Whew! I can now see why I got sick. I love all these challenges and they push me creatively but I think I may have over done it for February. I have never been pushed so far creatively though and that is fueling my fire. All of the pieces I have been sent are out of my comfort zone and that is awesome. I hope you will keep following me to see what I have made for each of these challenges.
~Shannon